We, at Gondals Press, lead a team of dedicated professionals committed to making the best use of their talents to serve YOU the client. Of course, technology is a vital part of our business, but we believe that people are the most important ingredient. Working in partnership with technology, using a rich diversity of craft skills and enthusiastically as a team, we are able to keep one step ahead of competition.

Gondals Press combines 71 years of experience in the printing & packaging industry with global and positive approach to provide its customers the best printing solutions. Maintaining and growing a family business over three generations, by adopting new technologies and continually

responding to the ever-changing needs of a client base is an even more impressive and unusual feat. But that is exactly what Gondals Press has done, remaining as viable and competitive in business today as it was when the Company was founded in 1938 by the family patriarch Mr. R. P. Gondal. (age 97 yrs and still going strong)

Continuous investment in printing technology ensures that the latest techniques and effects can be employed. The high-speed, hi-tech equipment provides you with a fast turnaround and consistently producing superior quality on our latest 5 colour Heidelberg Speedmaster, alongwith 1 colour & 2 colour printing machines installed in 2006 at our new plant at IMT, Manesar, Gurgaon.

The business is a far cry from the humble origins of the hand operated letterpress machines of 1938. Today, we are recognised as high quality colour offset, producing a diverse range of products in a number of niche markets.


Gondals Press aims to be India's leading integrated printing service provider like our mission statement suggests: To provide expert advice, combined with a quality product and a professional level of service because our most valued ass

et is you -
the Client.
To achieve this we share for excellence in the following key areas:-

Quality

We maintain a consistently satisfying level of quality, measured in terms of both national industrial standards and international recognized benchmarks.

Services

We understand that the first step towards delivering satisfaction is to fully understand the needs of our clients.

Technology

By utilizing the latest technology and equipment, we are able to work faster more flexibly and more efficiently ensuring consistently high quality results.

Value

We offer our customers flexible, competitive pricing that helps to fulfill their own cost objectives.

Gondals Press was founded in 1938 on the simple idea of binding new technology and a wide range of complementary skills under one roof to offer a truly effective, truly comprehensive printing and publishing service in India.

Today, Gondals Press occupies an expanding niche in the competitive commercial

and financial printing market. We are recognised by many notable listed and blue-chip companies as the 'most preferred' printing partner in India.

We have built a solid base of domestic and international clients across many others sectors. These include Health Care, Fashion Education, Real Estate, Hospitality, Media, Publishing House, NGO's, Government Department, Art & Culture, Environment.

Gondals Press has come a long way in the last decade and has indeed earned a reputation as one of India's premiere printing houses. We will face the future decades with the same passion and dedication we have demonstrated in the past–ready as always to embrace brave new worlds of technology, service and quality.

We care about our environment - plain and simple. We believe that carefully designed and printed products can make a difference.

Gondals Press has worked in many other ways to minimize the adverse impact the printing industry can make on our world.
We are one of the few Indian printing firms

with a coherent, comprehensive environmental strategy:

Paper

We encourage our clients to use recycled paper.


Ink

We use Soya based ink made of natural ingredients in all of our presses.


Computer-to-Plate

This technology eliminates the use of photographic film and thus reduces chemical processing.


Lamination

We have replaced liquid lamination (film and glue) with a more environmentally friendly pre-glued thermal lamination process.


Aluminium Plate Recycling

We collect discarded printing zinc plate for recycling.


Alcohol

We use a non-toxic alcohol substitute of low volatility in all of our presses.


Paper Recycling

We collect discarded paper from printing and binding processes for recycling.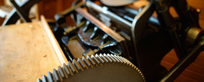 Gondals Press ( Delhi Office )
P-12 Connaught Place
New Delhi - 110001
INDIA
Tel: +91 11 23369689
Fax: +91 11 23366608
Mob: +91 9811227793
Gondals Press (Plant)
154 B, Sector 7
IMT Manesar Industrial Area
Gurgaon, Haryana
INDIA